The latest agricultural news from the U.S. Department of Agriculture.
Loading...
Welcome to the Food Systems LibGuide! THis guide covers issues related to food, nutrition, farms, and agriculture.
We hope that this guide will help you to find research articles, reference books, and websites (for more information on each, click on the above tabs) for use in your classes or personal interests. Please contact a librarian (information to the right) if you need further help.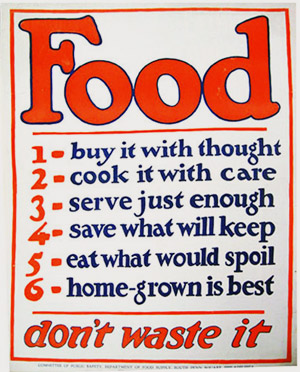 WWI era poster care of the National Agricultural Library.
Does It Matter How Our Food Is Produced?
While high-tech agriculture is one of the hallmarks of Western society, a growing number of Americans and Europeans believe that our farming methods are harmful on a number of levels. This program looks at the evolving debate over industrialized food production versus organic farming. Showing how and why farming techniques and policies have changed in the U.K. and similar countries over the last 50 years, the film then examines modern pesticides, herbicides, fertilizers, polytunnels, and biodomes, and discusses how intensive farming stacks up against organic and free-range farming. Perspectives from growers, food retailers, consumers, and agriculture experts are featured. A viewable/printable instructor's guide is available online. A part of the series Because Food Matters. (24 minutes)
Liza Harrington
JavaScript disabled or chat unavailable.
Contact Info
Greenfield Community College Library
Third Floor, Core
(413) 775-1830
Send Email